Working professionals lead busy lives.
We've found that one of the last things they want to do is deal with house/apartment cleaning.
We can clean a number of places that you can't, or don't want to do,
by offering these types of services:
Bathroom tiles and tubs are squeaky clean, when you know how.
Ceiling fans are washed and set for either Winter or Summer.
Kitchen appliances are cleaned of grease and grime.
Tiled floors are washed, so that even the grout looks fresh.
Windows and storms are washed so they sparkle.
Contact us with your cleaning requirements, and we'll show what steps need to be taken to get the job done!
I've been using Tony's services for many years. My basement needed reorganization and cleanup from decades of "storing" things that were no longer needed. He helped me make it more useful by clearing out useless items and building an area for wintering-over plants and storing garden supplies and adding areas for crafts and future projects.
VFS
Somerville, Mass.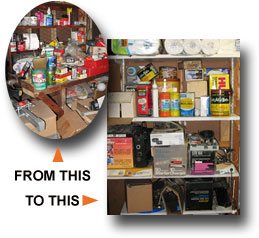 Have your basement and/or garage become a clutter collection, in need of serious attention?
Let us help you clean, organize and make these "catch-all" areas now become useful again. We'll help you store and organize your areas in an orderly fashion.
We can also help by donating/recycling or disposing of your non-hazardous items in a safe manner.
Why be overtaken by this accumulation of "stuff"?
Let's put YOU back in control of these wasted spaces.